AYURVEDIC TREATMENTS THAT CURE THE ROOT AND NOT JUST THE SYMPTOMS
Heal & Care Ayurveda & Panchkarma Clinic targets the root cause of disease
Welcome To Heal & Care Ayurveda Clinic
---
|| Ayurveda & Panchkarma Center ||
Heal & Care Ayurveda Clinic located at Pimple Saudagar, Pune.
Heal & Care Ayurveda Clinic is engaged in treatments and cure of many medical conditions; for instance, Various Skin problems such as an Psoriasis , Acne , Mental ailments etc; Respiratory disorders like Asthma, Skeletal systems disorders like Vata and Amavata, Cardiac problems like hyperlipidemia and blood pressure, Infertility problems such as Azoospermia, Neuromuscular problems such as Paralysis, Gynaecologial problems such as Leucorrhea, desmenorrhea
About Heal & Care Ayurveda Clinic and Doctor
Dr. Geetanjali Thokal MD(ayurved) is owner and founder of Heal & Care Ayurveda & Panchkarma Clinic, Pimple Saudagar. Dr. Geetanjali has completed B.A.M.S. from the Tilak Ayurved Mahavidyalaya, Pune (One of the best institute of Maharashtra) and MD in Kayachikista (i.e Ayurvedic Medicine) from B.S.D.T. Ayurved College and Cancer Research Centre, Wagholi, Pune. She has been awarded with Gold Medal (in ENT) by Dr. Kirumakki, Germany and Best Intern of the year (Vd. Nanal Paritohik) during graduation.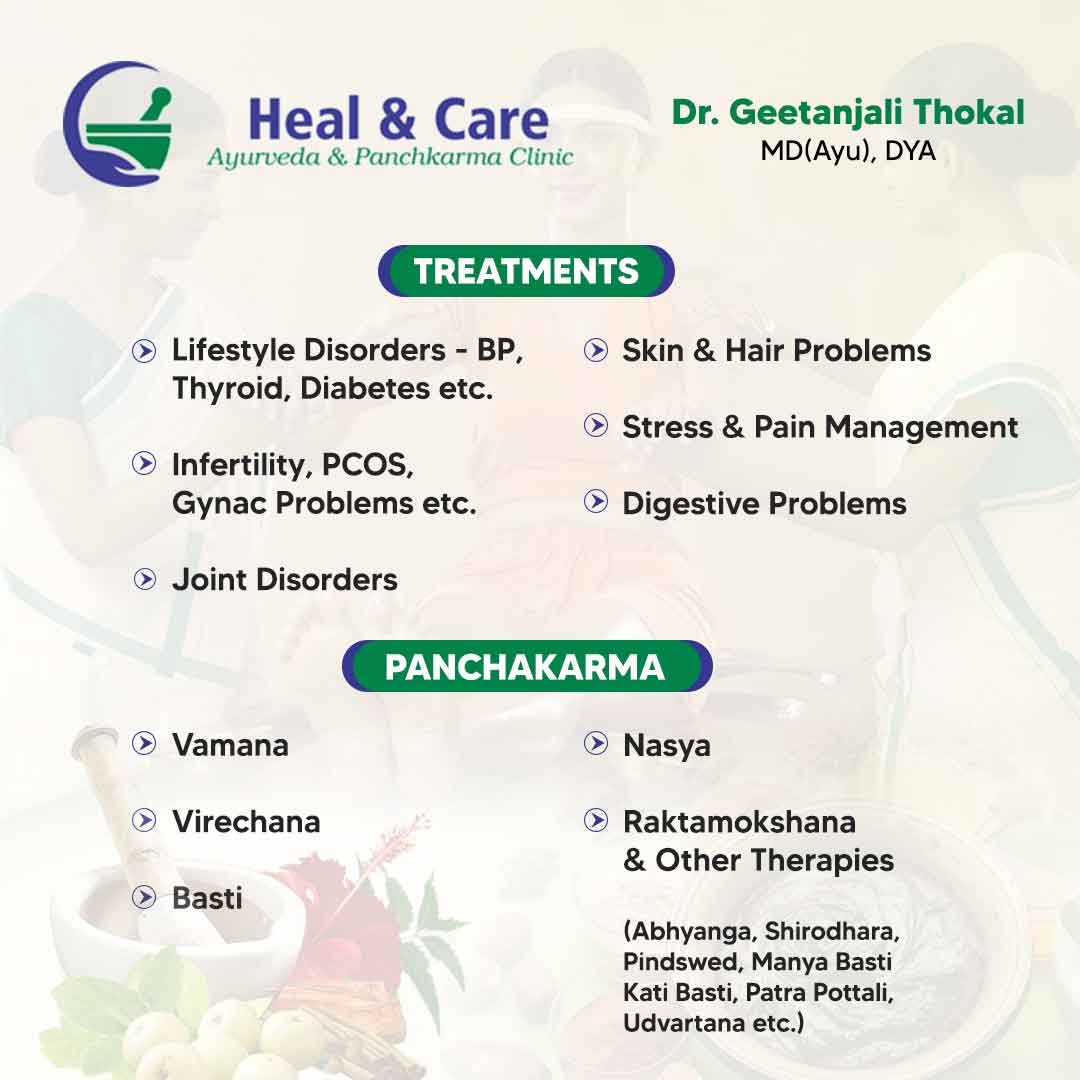 Patient Testimonials
Kunal Chaudhari
25. February, 2022.
One of the best Dr we have ever come across...i was having extreme post covid symptoms last year....Dr cured me very well....with extreme care, personal attention, timely appointments, over phone/whatsapp support. My whole family was also covid positive and dr treated us very well thoroughly. There are so many other incidents either with me or within family when dr helped us. Dr Geetanjali has become our first point of contact for any illness or medical advice. Dr Geetanjali is having extra ordinary expertise in Ayurveda, she will tell about ur medical conditions just by checking nadi. I will blindly recommend Dr Geetanjali... Thanks Dr....
Amruta Kadam
25. February, 2022.
I had very nice experience with Dr. Geetanjali. Infact I am still continuing my treatment at her clinic. She is very supportive, gives each patient proper time, listens patiently and addresses all our medical issues very accurately and properly. Me and my husband even did Panchkarma at her clinic and had a very nice experience and after effects. Best ayurvedic doctor I came across.
Deepak Ugale
9. December, 2021.
Doctor has very deep knowledge of ayurved. She also explain patient about root cause as per ayurved.
Monika Goel
26. October, 2021.
I'm thankful to Dr. Geetanjali who is really patient, humble and good. She diagnosed my problem precisely n her medication really suits me.
manjiri patwari
23. October, 2021.
Best Ayurvedic Dr. In Pimple Saudagar👍.